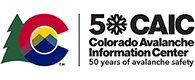 FOR IMMEDIATE RELEASE
Thursday October 26, 2023
Kelsy Been | kelsy.been@state.co.us 
 
Governor Polis and the Colorado Avalanche Information Center Celebrate 50 years of Avalanche Safety, Research, and Education
BOULDER - This year marks 50 years of operations for the Colorado Avalanche Information Center (CAIC). CAIC is a program within the Colorado Department of Natural Resources (DNR) with a mission of providing avalanche information, education, and promoting research for the protection of life and property and the enhancement of the state's economy.
CAIC got its start as the Colorado Avalanche Warning Program (CAWP) in 1973 as part of the Forest Service's Rocky Mountain Research Station. CAWP was the first avalanche program in the U.S. that issued public avalanche forecasts. 
"Information and education about avalanche safety saves lives. I am thrilled to celebrate the 50 years of Colorado Avalanche Information Center operations and thank the center for keeping Coloradans, and recreational visitors, safe and informed while exploring and playing in Colorado's iconic great outdoors," said Governor Polis. 
Under Governor Polis the state has invested significant resources in the CAIC and Avalanche safety. Through SB 21-219 sponsored by Senator Bob Rankin and Rep. Julie McCliskie, signed by Governor Polis on April 30, 2021, the state invested $750,000 in the operations of CAIC ensuring these critical services are readily available to Coloradans. On June 21, 2021 Governor Polis invested Keep Colorado Wild Pass revenue in search and rescue teams and Avalanche safety programs by signing SB21-249 sponsored by Senators Stephen Fenberg and Kerry Donovan and Representatives Perry Will and Kerry Tipper. 
"Much has changed over the last 50 years, including how we forecast conditions, our understanding of avalanches, and the technologies we use to share information," CAIC Director Ethan Greene said. "But what hasn't changed is our commitment to sharing information and educating people about avalanches to help keep people safe."
Greene has been the director since 2005 when he took over for the previous long-time director, Knox Williams. Knox has described CAIC's evolution and growth with "a tiny upstart program in 1973 to the largest and perhaps most successful avalanche safety program in the United States today."
"The work CAIC does is critical for the state of Colorado. As someone who recreates in the mountains, I have always relied on CAIC as a life-saving source of information," said Dan Gibbs, Executive Director, Colorado Department of Natural Resources (DNR). "CAIC's history shows the organization's ability to adapt to meet changing needs, and I have no doubt that CAIC will continue to be a leader in avalanche safety, research, and education over the next five decades."
CAIC has been housed within different agencies and programs since its inception, starting as part of the Forest Service and then moving to the DNR – living both under the Colorado Geological Survey under DNR and the  Executive Director's Office, where it has resided since 2013. CAIC is the only avalanche center in the country that resides within state government – instead of under the Forest Service in the federal government or as a non-profit. The CAIC does, however, rely on its public-private partnership with the Friends of CAIC, a 501(c)3 non-profit organization that formed in 2007 to promote avalanche safety in Colorado and support the recreation program of the CAIC.
CAIC will be celebrating its 50th Anniversary throughout the upcoming season this winter, spotlighting its history and the progress that has been made in avalanche awareness and safety over the years. The celebration will begin at this year's Colorado Snow and Avalanche Workshop on October 27 in Breckenridge. All former CAIC staff have been invited to attend the special event. Learn more about CAIC's history on its 50th Anniversary webpage. 
###